Tips for Athletes
Always Remember...
Always remember...
You are your parent's child
You represent Barnwell School
Conduct yourself in a way that both will always be proud of you!
Winning
"Winning is being better today than you were yesterday...everyday"
The Power of Willingness
Willingness means: done, given, or accepted voluntarily or ungrudgingly.
Why is willingness so powerful? Because it means somebody does something without expecting personal gain, notoriety, or anything in return for their action or sacrifice. To illustrate willingness in basketball terms, let's look at what it can mean on your team:
For players, willingness might mean:
Willingness to put the team above yourself
Willingness to take a charge
Willingness to take a teammate home from practice
Willingness to make the extra pass
Willingness to guard the other team's best player
Willingness to accept your role as a distributor
Willingness to stay positive on the bench
Willingness to tell your parents that you don't deserve to start
Willingness to stay after practice and work on your game
Willingness to pull a teammate aside and ask what's bothering them
Willingness to make good choices off the floor
Willingness to go to study hard and do your homework to keep your grades up
Willingness to give maximum effort in practices and drills
Willingness to take feedback from your coaches
Willingness to box out every time a shot goes up
Willingness to work on fundamentals, even if they are 'boring'
Willingness to sprint back on defense
Willingness not to take opponents lightly
If players can buy into this, it can literally be program-changing for Barnwell School.
Are You Committed?
Commitment is the soul of teams everywhere. Without it, it's impossible to find success, regardless of talent. And with it, teams that might lack the physical strengths of other programs find ways to win.
When thinking about commitment, we're reminded of some insightful comments Texas men's basketball coach Shaka Smart made during a 2015 radio interview. Smart, who was then coaching at VCU, was asked his thoughts on comments then Florida coach Billy Donovan made about commitment following the suspension of a Gators player.
In his comments, Donovan pondered whether you can force someone to be committed. Here is how Smart responded:
"It's a great point: Can you force someone to be committed? I don't think you can.
We talk to our guys all the time about the difference between interest and commitment. When you're interested in something, you do it when it's convenient. When you're committed to something, you do it all the time, even when you lost that feeling that you originally had when you made the original commitment.
But the problem with today's society, especially our basketball culture, is kids grow up learning to be conditionally bought in. In other words, 'If things are going well for me, then I will follow the plan and I will do what you ask me to do coach. If things are going well for me, then I'm going to have a good attitude. I'm going to be coachable. But if they're not, I'm going to get off the page and I'm going to do what I want. It's OK for me to violate team rules. It's OK for me to not be coachable. (Or) it's OK for me to take a bad attitude. It's OK for me not to be a good teammate.'
And the reality is that it's a disease that impacts the vast majority of teams. And what most fans don't realize is this is the No. 1 thing that we fight as coaches every day. It's a daily battle. People think it's about pick-and-roll and dunking the ball and making jumpers. If our guys have a clear head for being committed to what goes into winning, then we're going to win most of the time, unless we play a team that's just that much better than us.
But when you see us struggle, it's not because we didn't work on free-throw shooting or work on our 3-point shot. It's because maybe a guy got off the page, or maybe a couple guys did, and I try to tell our staff all the time it's not about the scouting report. (And) it's not about how we're going to guard pick-and-roll. It's about 'does this guy have a clear mind?'
…
"It's a systemic problem in our entire culture. … When you get to the higher levels of basketball, the reality is it's a question of supply and demand. There's a small supply of great players out there, great in quotes, whatever that means. There's a huge demand for great players.
…
But if a guy can have success at this level but not do things necessarily the right way all the time, or not be a great teammate, eventually that's going to catch you. No one has the level of talent, except for maybe the top 1 percent in the NBA, that they can be an absolute jerk, do things the wrong way, and still get away with it."
The Coach Who Yells
by Don Kelrick
Watching the interaction between players and coaches never ceases to be interesting. There are good interactions, bad interactions, long interactions, short interactions, but al interactions are interesting to me. I find it fascinating that the two sides, player and coach, who are after the same thing, have trouble reaching one another.
I was in a practice, helping a coach who was a friend of mine. He was a yeller and a screamer, and when he got on you, it was not a pretty sight. As you might expect, sometimes his players did not want to hear from him.
At the end of the practice, he got his team together to talk to them. It was obvious that he had great affection for his kids and the team felt the same about him. But still, sometimes it was difficult for them to accept his direction when they felt they were being attacked. He tried to put some things into perspective.
"I am going to yell at you, you can't escape it," he said. "While I might try," he continued, I am too old to change and you have to adapt to me."
Then he offered some advice to help put things in perspective. He asked, "What would you do if you were in math class taking a test? You don't know the answer to number 6 so you ask the teacher. And he gives you the answer. What would you do?"
The Captain of the team spoke up and said, "I would say thank you."
"Well," he said, "the math teacher is not going to do that. But, I will. When you have a problem on the court and I yell at you, I try not to but, rightly or wrongly, it is the way I communicate. I am not angry at you, I don't dislike you, I am not trying to attack you. I am trying to help you fix the issue. Like the math teacher, I am trying to give you the answer. Instead of you getting upset at my sometimes overly aggressive delivery, just think, 'Thank you,'"
I thought that was an interesting and valid perspective. If you have a coach who seems to yell at you a lot, try to look at them as someone who can solve your basketball problems and help you through rough patches, instead of someone that is "being mean" to you.
Winning Isn't Everything...
...but making the effort to win is!
Eight Things I Learned Sitting on the Bench
By Brianna Peralta
Let's face it: as an athlete, the bench is the last place you want to end up on game day. You have that burning desire to just be on the field where the action happens, but the odds are you will at one point or another be on the bench. As someone who knows what it feels like to be in that position, here are the top eight things that I have learned while sitting on the bench:
1. You have to work a lot harder than the player that's starting.
The truth of it is that the starter is out there for a reason and if you want to be out there, then you have to prove that you want to be there. Sometimes that means taking a few extra reps after practice, or asking coach to work with you to get it right. Putting in the extra time will only help you.
2. You learn how to be mentally tough.
There may be a time when all of the subs get put in except you, there may be a time during practice that you can't do anything right, there may be a time where you don't feel 100 percent. You will hate yourself for making that error three games ago, and you will ask yourself is it even worth it anymore. Whether you know it or not, every hurdle you overcome in that state of mind is mentally building yourself up and in the end, you know that it is worth the blood, sweat and tears because you love the game.
3. You learn how to be the best support system for your team.
On game day, you will be the biggest fan section as well as the loudest. You will cheer them on when they are winning as well as pick them up when they are losing. It is your job to make sure your team is up at all times and in the game.
4. You learn how not to act.
Being on the sidelines you get to observe how everyone playing reacts to different situations. You see the girl who has an attitude that struck out and is now throwing various objects around. You know how bad that looks. Don't be that athlete.
5. You learn how to be patient.
I know they say that patience is a virtue, but in the game, it is a major key. Now I know what you're thinking. Slow down, DJ Khaled. What do you mean, "be patient?" What I mean is that you can't hope and pray that girl playing your position makes an error just so you can make a snarky comment about how you can do better than that. You will play eventually, I promise you, but not with those comments.
6. You will get your opportunity to play and you will have nothing to lose.
This is it. This is your shot to play, and when you go in, it will be glorious, because in that moment, you get a chance to prove that you can do it. All the practices you actively participated in and all the time you spent watching and learning from the other girls who are getting the playing time finally paid off. Just know that you have nothing to lose if you mess up, so play with no regrets.
7. You learn to enjoy the time you're there.
You only have a couple of years left to play this sport that you love and when you're older, you are not going to remember the games you did or didn't play. You are going to remember the times where you made a team effort to reach and achieve a goal, like that time you beat your rivals in the last inning, or the time you won the conference tournament for the first time ever. Celebrate team successes and don't dwell on the times you didn't play, because you may regret it later.
8. You are still a vital member of the team.
I know it may not seem like it in the moment, but your role on the team is still extremely important. Bench players, on top of the cheering and support, are constantly running around doing a lot of behind the scenes work. You are just as important to the team as the girl out there playing, just in a different way.
Playing Time
I'll never forget the day I went home in 10th grade and complained to my dad about my coach and playing time. His response "You have three options. Get better, stay where you're at, or quit. None of those options involve you complaining to me."
Life changing advice.
Thanks dad!
The Difference Between Great Players and Poor Players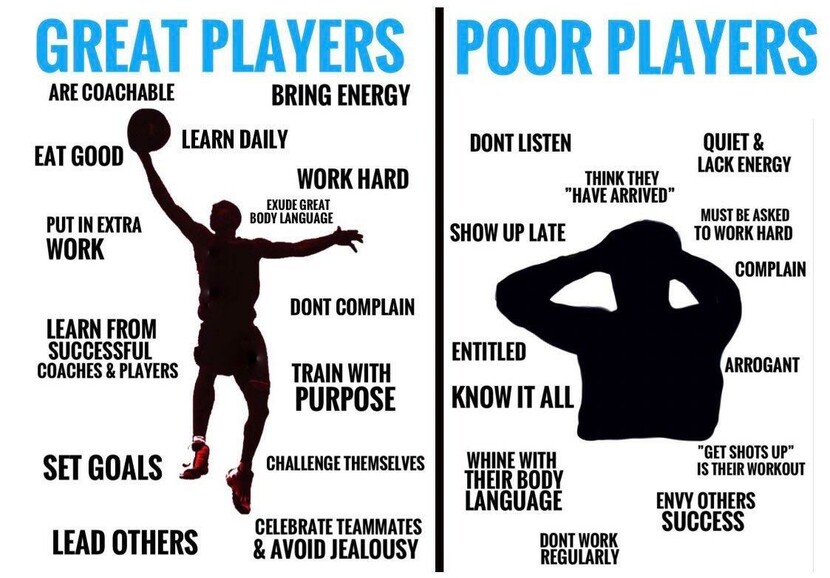 How to Build a Positive Team Culture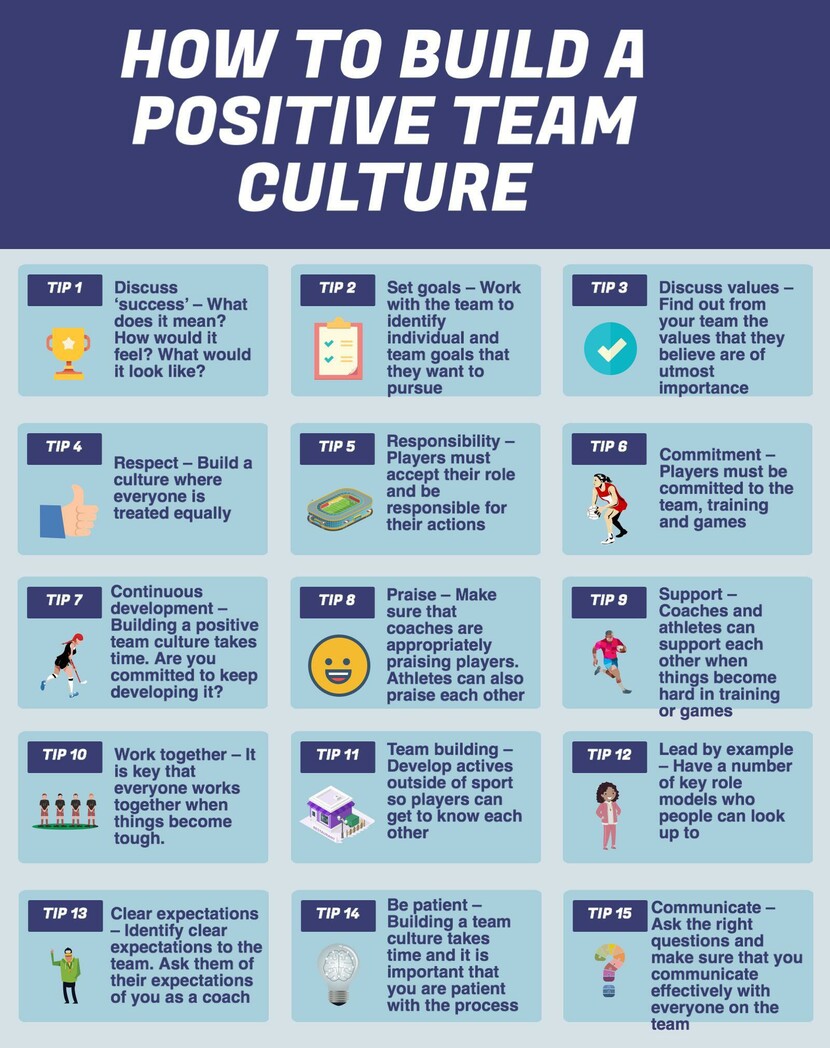 15 Important Life Lessons Kids Learn Through Playing Sports